Dental veneers are thin custom designed shells made of materials similar in color and similar in appearance to your natural teeth. Dental veneers are also known as dental porcelain, porcelain veneers, or laminates. These veneers are formatted to cover the front surface of your teeth and improve your dental appearance. The thin shells are bonded to the front of the teeth. They can improve the color, shape, length, and size of your current teeth (Click here to learn about first impressions, and why they are so important).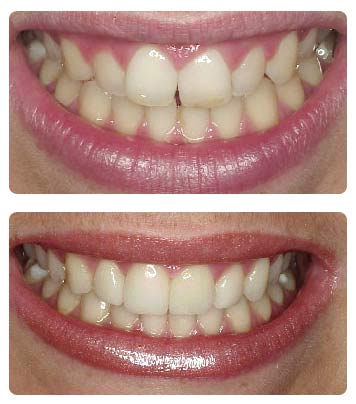 Dental Veneers can be constructed from porcelain or resin materials. It should be noted that the porcelain veneers are better at preventing stains and they better resemble the appearance of your natural teeth. Resin veneers are much thinner and during the application process, less of the tooth surface will need to be removed when you have resin veneers. Always discuss major dental procedures with your dentist. Let him know what you want, what your budget is, and why you have dental concerns.
Why Veneers?
Many people have porcelain veneers because they may not give their teeth the attention they deserved during the formative years. It is true that the first thing people notice about you is your smile, so having a clean white smile can be beneficial to your personal and professional life. If you feel that your smile is not up to par, give us a call.
Some possible reasons for getting veneers might be:
Discolored teeth – either due to stains, poor root canals, poor maintenance, or resin fillings
Teeth that are worn down – With age, tooth enamel may start to wear off and cause a strange appearance. Dental Veneers will help maintain this dental structure and prevent further erosion
Chipped or broken teeth – if your teeth are always breaking or chipping then veneers just make sense for you from appearance and economical perspectives
Teeth that are misaligned, uneven, or irregularly shaped
Tooth gaps
How to Get Dental Veneers
Getting dental veneers will require several trips to the dentist. There will be consultations and several application appointments. The amount of teeth that undergo the veneer process depends on how your dentist evaluates your smile. He or she may suggest placing veneers on a few teeth, or on almost all of your teeth. This is the time to thoroughly discuss the veneer process and to ask your dentist any questions you might have.
The Procedures
Diagnosis and Treatment Planning: This involves explaining to your dentist exactly what you want and why you want it. A thorough examination of your teeth and gums will show whether you are a good candidate for veneers or if you should consider alternatives. Make sure you listen to your dentist's professional opinion on the subject. X-rays will need to be taken and impressions will need to be made of your mouth. Let your dentist know if you have gag or reflex issues when you have the impressions made as this can be an uncomfortable process to undergo.
Preparing: To get teeth ready for a veneer or veneers application, your dentist will need to remove some enamel from your current teeth. The surface will be reduced to a thinner and more easily bonded structure with about ½ millimeter of enamel removal. This process may be uncomfortable for some people.
A local anesthetic will numb the gum and teeth areas. After this process, the dentist will then make an impression of your teeth. This mold will then go to a dental laboratory (your dentist may have one in-house). This model will be used for your veneer construction by the veneer construction team.
kayak review Do not be surprised if it takes 1-2 weeks for the veneers to be made. Once they are ready you will need to visit your dentist again for the application. There are as temporary veneers if your tooth or teeth need an immediate fix. Ask your dentist about this if you feel like you would be a good fit for temporary veneers while permanent ones are being made.
Bonding: Once you go back to the dentist, he or she will see if the constructed veneers look good and fit properly.This is an important step in the process. Veneers that look like they do not belong are not something you want. The color also needs to look natural. If any veneer trimming needs to be made then this will be the time for the dentist to do so.
Cements have different colors and the closest color to your natural teeth will need to be chosen correctly. Your teeth will be scrubbed, polished, and scratched. These scratching's will make for a tighter bond and snugger fit.
A veneer cement will be applied to your teeth. Then the veneers will be placed on top of the cement. After they are placed properly, a light beam will be used on the veneer and the cement. This will speed up the process of bonding between your natural teeth and your veneers. The hardening needs to be quick and accurate, so the veneers do not shift and are securely placed on your natural teeth.
Any extra or surplus cement that is present around your veneers will be wiped away from your teeth and your veneers. Your bite, as well as the placement, will be inspected before you leave the dental office.
Follow-Up Visit
Your dentist will want you to come in for a follow-up visit about two weeks after you have had your veneers applied. He will look at your bite, gum condition, fit, color, and overall appearance of your veneers.
If you think you want veneers, make an appointment to visit your dentist and discuss the questions that concern you. Ask for customer reviews and to see samples of his past veneer work. Decide if you want resin or porcelain veneers. Be sure to cover all of your bases at this consultation appointment. Make sure you know exactly what you want in your veneers as well as know your budget and expectations. You will love your new veneers!
Convenient Dentist Offices in Southern California
Doctor Sam Shahovesi and the team at City Dental Centers are here to provide our patients with the best dental services and dental surgeries for children and adults of all ages. From toddlers to seniors, City Dental Centers offers six convenient dentist offices in Southern California. We even have a dedicated children's dentist office, City Dental Kids & Braces, to cater to the special physical and emotional needs of children.
Whether you need checkups, x-rays, braces, bonding, teeth whitening, sealants, oral cancer screenings, root canals, crowns, bridges, implants, or tooth extraction, City Dental Centers is here to make the process as easy and comfortable as possible.
Contact The Nearest Dentist to You
Ready to experience the best dentists in Los Angeles? Choose one of the convenient dental offices we have surrounding LA. We have dental practices in Azusa, Corona, Lake Forest, Montclair, Pico Rivera, and West Covina. You can call our main line at (888) 624-8933 or reach out to an office directly with the information below. We're so happy you've chosen City Dental Centers. We can't wait to help you along your dental journey and brighten your beautiful smile!
Dentist in Azusa, CA
Location: 483 S. Citrus Ave. Azusa, CA 91702
Phone: (626) 966-3400
Dentist in Corona, CA
Location: 161 McKinley St. STE 102, Corona, CA 92879
Phone: (951) 737-3746
Dentist in Lake Forest, CA
Location: 24602 Raymond Way #210, Lake Forest, CA 92630
Phone: (949) 461-5800
Dentist in Montclair, CA
Location: 5182 Moreno St, Montclair, CA 91763
Phone: (909) 295-3477
Dentist in Pico Rivera, CA
Location: 9400 Whittier Blvd, Pico Rivera, CA 90660
Phone: (562) 949-2526
Dentist in West Covina, CA
Location: 154 Plaza Dr, West Covina, CA 91790
Phone: (626) 962-1722